Challenge yourself with this intensive, total-body barre workout. This sweaty, upbeat sequence features a combination of powerful matwork and weighted exercises to strengthen your muscles and stoke your metabolism.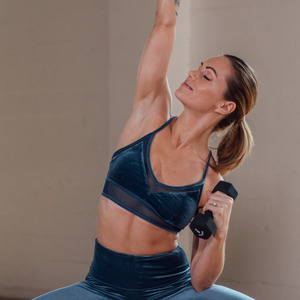 Adrienne's Bio
Adrienne's classes are an enrapturing combination of rhythm, fluidity, and fire. She is fiercely dedicated to intuitive and flowing movement, and she delights in the challenge to choreograph transitions that feel seamless and beautiful.

Her unconventional approach embraces body-positive language, radical presence, and a heartfelt connection to your authentic self. Adrienne believes you're already perfect, and her classes remind you how to occupy your entire body with compassion and power.

Adrienne is the owner of, and Master Trainer for Seattle-based Bohemian Studios, which leads on barre and yoga classes. She also leads Barre Teacher Training, Yoga Teacher Training and hosts retreats across the globe.
Latest Activity from Members